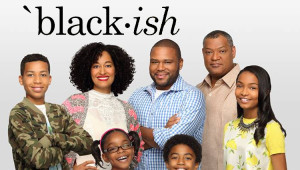 After years of unsuccessful attempts since the early 2000's, network television has finally decided to take on a black sitcom in ABC's new show Blackish. The show focuses on Andre Johnson (played by Anthony Anderson), an African American senior vice president at an advertising company married to an interracial wife, Rainbow (played by Traci Ellis Ross), and how he is trying to raise their four kids as black as possible. Now I was skeptical about the show because of its title, but when actually watching it, it is a pretty good show. However, I still see opinions here and there about how people do not like the show. I respect their opinion, it's freedom of speech, but I still felt there was a need to defend it.
The premise of this show is about a black man who feels he is losing his racial identity because of the suburban life him and his family is living. It sounds like a miniscule point to build a show on, but it is a real deal in the "post-racial", diverse world we live in. Honestly, it's something that a lot of black people that "make it" probably think about: whether or not they are "black enough" or "keeping it real". We have a unique culture and identity we do not want to let go in fear of being called a sellout. This can affect choices we make on music, food, sports, and sometimes, especially in this case, entertainment (what black person you know in their mid-20's never saw an episode of Martin or never saw Friday).
Andre grew up in a time where the world really wasn't like that, however his kids do not know that reality and that is a struggle for him to impose on them. In the last episode, he struggled with the task of whupping his youngest son, something me, and other black people in my generation, have definitely had the misfortune to experience while growing up. Andre only whupped his oldest son once and claimed he himself cried like "Whoopi in the Color Purple". But in another scene he reminisces with his father (played by Laurence Fishburne) how Andre used to get spanked with a Hot Wheels track on numerous occasions.
Johnson is also a character that is telling an untold story: the black executive in a world of few black faces. According to BlackCareerZone.com, there are only 8.3% management and professional occupations held by African Americans. In 2008, the U.S. Equal Employment Opportunity reported close to 30,000 African Americans held senior management positions out of a total workforce of 50,000,000. The stereotype about black people in power positions is that they are already sellouts: so quick to assimilate to the majority and forget their heritage in order to gain their success. Black people are working in more executive positions than in the past and dealing with a multitude of races that is not their own. Surely, every black person who works in upper management cannot be labeled a sellout. If so, is it for survival? I remember having a conversation with a friend who was telling me about some black friends she knew and how they had to, in a way, assimilate to fit in with their co-workers. We always hear workplaces striving for diversity, yet you still hear stories like this and it does not add up.
There is not a lot of sitcoms that feature and star a huge black cast right now, but I have always saw blogs and memes calling for more of them. The ones that are there are on the Afro-trinity of television: BET (Real Husbands of Hollywood, The Game and Let's Stay Together) and TV One (The Ricky Smiley Show and Love That Girl); Centric carries mainly reruns of older sitcoms. Other than that, the Love and Hip Hop series, Basketball Wives, R&B Divas and Real Housewives of Atlanta seem to be the topic of everyone's Twitter feed; but aren't you tired of every week being drawn into the misery and violence of some stranger for the satisfaction of your own humor? It' a joke that may run out sooner than you think.
Blackish may not save black television but it is definitely a step in the right direction. I'm tired of watching episodes of Martin, Good Times, The Steve Harvey Show, A Different World (still feel some type of way on the wedding episode) and any classic black TV show just to utter the phrases, "They don't make good television shows like this anymore. There are no shows that spark real discussion" Blackish is sparking a lot of discussion, particularly about keeping your cultural identity in a world that strives to bring many cultures together. But this is definitely a show that everyone can find their identity in.
3754 Total Views
4 Views Today