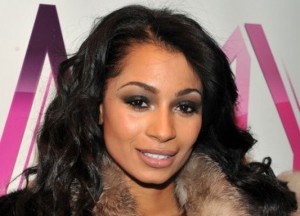 Two of the biggest factions in the world of black entertainment are Love and Hip Hop and anything that Tyler Perry makes. And by factions I mean two of the things that black people love to hate. Love and Hip Hop is a reality show centered around pseudo-important music industry people and their significant others/jumpoffs.
Karlie Redd is a singer (of God-knows-what) on the Atlanta show but has been trying to branch out into acting. However, she says her status as a cast member as done more harm than good.
"I went for a role for a Tyler Perry film and they shot me down because I was on 'Love and Hip Hop.'," she said in an interview with 93.9 WKYS. Redd goes on to add that this was not the only time it has occurred.
"There's been roles that I auditioned for and then they found out…literally I'm on my way to set to work, got the role and everything and then they find out I'm on the show and then they're like, 'Uh, no.'"
While I have not found anything to substantiate this claim, I also believe it to ring true, particularly for the Tyler Perry role. Perry caught a lot of flack for casting Kim Kardashian in a small role in last year's Temptation. While Redd has not done any sex tapes such as her co-star Mimi Faust, she has still exhibited some outlandish behavior by engaging in public fights as well as posting a picture of both of  her ex-boyfriends'  penises over the internet. The difference between her and Kim is that Kim's sex tape was done a long time ago and Redd was doing these antics as early as 3 episodes ago. Plus, the movies that Perry runs always seem to be geared toward family-oriented, faith based audiences, hence the the criticism he caught for putting Kardashian in the film.
But as for Redd, LHHATL has always received a lot of negative attention, just like a lot of reality shows, especially with the Mimi Faust sex tape. The social media universe, which pretty much bitch slaps the normal media universe, is already convinced that the executive producer, Mona Scott-Young orchestrated the whole sex tape plot to generate attention for the show. Not to mention the other characters who have been arrested (Stevie J), shot (Benzino) and in rehab (Lil Scrappy). Then there is the brawl at the reunion special that has yet to air. Her best bet would be to quit the show because it seems like more problems will continue to occur and it could ultimately ruin whatever "career" she was trying to have.
Watch the entire interview below:
2338 Total Views
4 Views Today