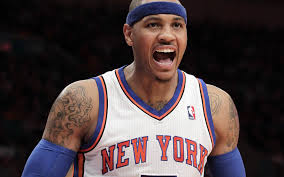 The drama that was associated with the NBA's free agency is beginning to die down with the latest on Carmelo Anthony. According to CBS Sports, the forward will re-sign with the New York Knicks and expected to make an announcement this coming Thursday, much to the delight of the New York faithful. It has been quite a ride of emotions for the fan base that first hear about the news of Anthony leaving, less than a month ago. On top of that, they were entertained with rumors of where he would end up as well as who might join him in New York.
Now it seems that all of the fun has died down and everything has come to an unnecessarily predictable conclusion. Despite interest from the Rockets, Heat, Lakers and plenty of other teams, Anthony may be expected to take the Knicks' $129 million offer. According to the New York Daily News, a friend close to Anthony said he was "agonizing" over a decision that he has taken his time to think about.
"He is really torn because this is the biggest decision of his career," said the source. "But he wants to get it done in New York. He told me he believes in Phil."
Recently the Knicks and the Los Angeles Lakers have appeared as the favorites to land Anthony, but the Knicks may have a slight advantage being that New York is his hometown and a possible redemption factor on his end. Last season, the Knicks missed the playoffs after being heavy favorites to win a title or make a deep postseason run. Now they are in a rebuilding stage with a new team president in Phil Jackson and new head coach in Derek Fisher. However, Anthony is a 30-year-old veteran and does not have much time left to get the title he has been chasing his whole career.
2714 Total Views
2 Views Today