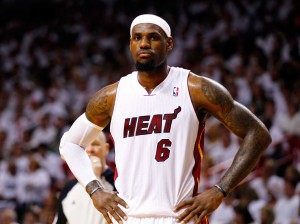 Just a day after New York Knicks Carmelo Anthony said he will opt out of his contract the free agent market is welcoming another big name to its pool. According to ESPN, Miami Heat forward Lebron James will opt out of his contract which makes him an unrestricted free agent.
This is not a drill or a repeat from 2010, but James, for the second time in his career has made himself open to the free agent market. Many have speculated as early as his second year with Miami, the possibility of him leaving the Heat and going to a big market team such as New York or Los Angeles or even going back to his home state of Ohio and play for the Cleveland Cavaliers, the team who drafted him number one overall in 2003.
Speculation really picked up during this year's Finals in which the Heat lost to the San Antonio Spurs in five games. The Heat's poor play drew much criticism, particularly to the role players and other members of the Big 3 collective, center Chris Bosh and guard Dwayne Wade. Some analysts believed the ineffectiveness of James' teammates would cause him to carry a heavy workload, something that he did not want in Cleveland. There have also been earlier times when James expressed his interest becoming a free agent.
James told the team he was going to vacation with his family and weigh his options out. However, it was an Instagram post by his wife, Savnannah, that sent the internet into a furor when she posted a photo of a map with Akron, Ohio marked with the caption "Home Sweet Home. The countdown is real!! #330".
James has until June 30 to make the decision (there goes that word again) official. If anything he needs to stay in Miami and continue to win the titles. If his issue is not carrying a heavy workload then he damn sure shouldn't go back to Cleveland where they are expected to waste their third number one pick in the last four years, meaning they may not have any real help. So far the Rockets have been the team to strongly express desire in signing Lebron but of course it is only June and anything is liable to happen. Lebron just needs to stay in Miami and salvage his legacy. There is no reason for him to have Michael Jordan talent making Nate Robinson decisions.
828 Total Views
2 Views Today