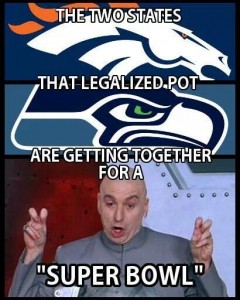 Making this year's Super Bowl prediction was not as easy as one might assume. Perhaps it is because this year I am apart of an actual sports writing team and sports writing requires you to make some educated and some uneducated guesses. I mean looking at both of these teams there is absolutely no clear cut favorite. Both teams are the no. 1 seeds in their conference. They both come from cold weather-capable environments. One team has the best defense in the league and the other has the best offense. And they both legalized marijuana (just thought I would share that with you). But my gut instinct tells me that the Seahawks should grab this one but in all likelihood it might not happen.
For what it's worth, Peyton Manning is no Colin Kaepernick or Cam Newton. No way in hell at this level because he is the poster on their wall. Manning has the single season record for touchdowns with 55. The "Legion of Boom", led by cornerback Richard Sherman, is the no.1 secondary in the league along with being apart of the no.1 defense in the league. they have given up a total of 16 touchdowns all year. While Manning has been sacked 18 times, the Seahawks have 44 sacks roughly double that amount. In other words they can get to the quarterback.Now the point of mentioning that Manning is not a Kaepernick or Newton is to make a point that he is not a mobile QB. Not after 4 neck surgeries. So how is he going to escape the pocket without throwing the ball away and using quick screens? He won't. they have the defensive linemen to get to him and corners will get physical with the receivers to disrupt their timing.
But then again you are talking about Peyton Manning, arguably one of the greatest QB's ever and his knack for dissecting defenses is impeccable.Manning threw 55 touchdowns the whole season with a week's worth of studying in between games. Now you have given him 2 weeks to study your every movements and tendencies. It seems pretty damn difficult beat him with his cerebral reading of defenses.
In conclusion, I feel that with the weather being pretty chilly and the numbers being what they are I feel that the Seahawks SHOULD take this game. But I also have a feeling Peyton Manning is gonna work his Disneyworld magic and pull off the victory.
930 Total Views
4 Views Today